To paint your home is a process you may attempt to complete without the assistance of an expert, mainly because painting appears to be a simple process. However, you must pay attention to many factors when painting.
The most critical aspect is using suitable paints and materials for the task. But first, we'll see if you can use exterior paint inside. If you make the blunder of using exterior paint inside, you must understand the consequences. Here is your guide on your query; "I accidentally used exterior paint inside; what to do?"
CAN YOU USE EXTERIOR PAINT INSIDE?
When you decide to paint your house by yourself and go to buy one, the salesman will give you different paint for the outside and inside. But you may be considering using the same paint for both purposes. Or you could use the remaining exterior paint for your interior instead of wasting it. But can you use exterior paint inside? Is it OK?
Yes, you can technically use outside paint indoors. There is, however, a solid reason why you should not. Exterior paint contains strong chemicals to protect against harsh climate conditions of the outside environment but can be extremely harmful when used on internal walls.
While you may not want to discard that excess paint and think of using it on one of the inside walls, it is advisable to dump it away.
VOCs (Volatile organic compounds) also have a terrible odor and can have harmful consequences if exposed for an extended period. A few adverse effects include dizziness, vomiting, difficulty breathing, and discomfort in the eyes, nose, and throat.
If you have excess exterior paint, you may paint the terrace walls or apply it to garden chairs. Such areas are more likely outside or in an open space, decreasing the risk of adverse effects.
As a general rule, avoid applying exterior paint inside, even if it's just for a tiny interior wall.
How to Modernize a Colonial Home Exterior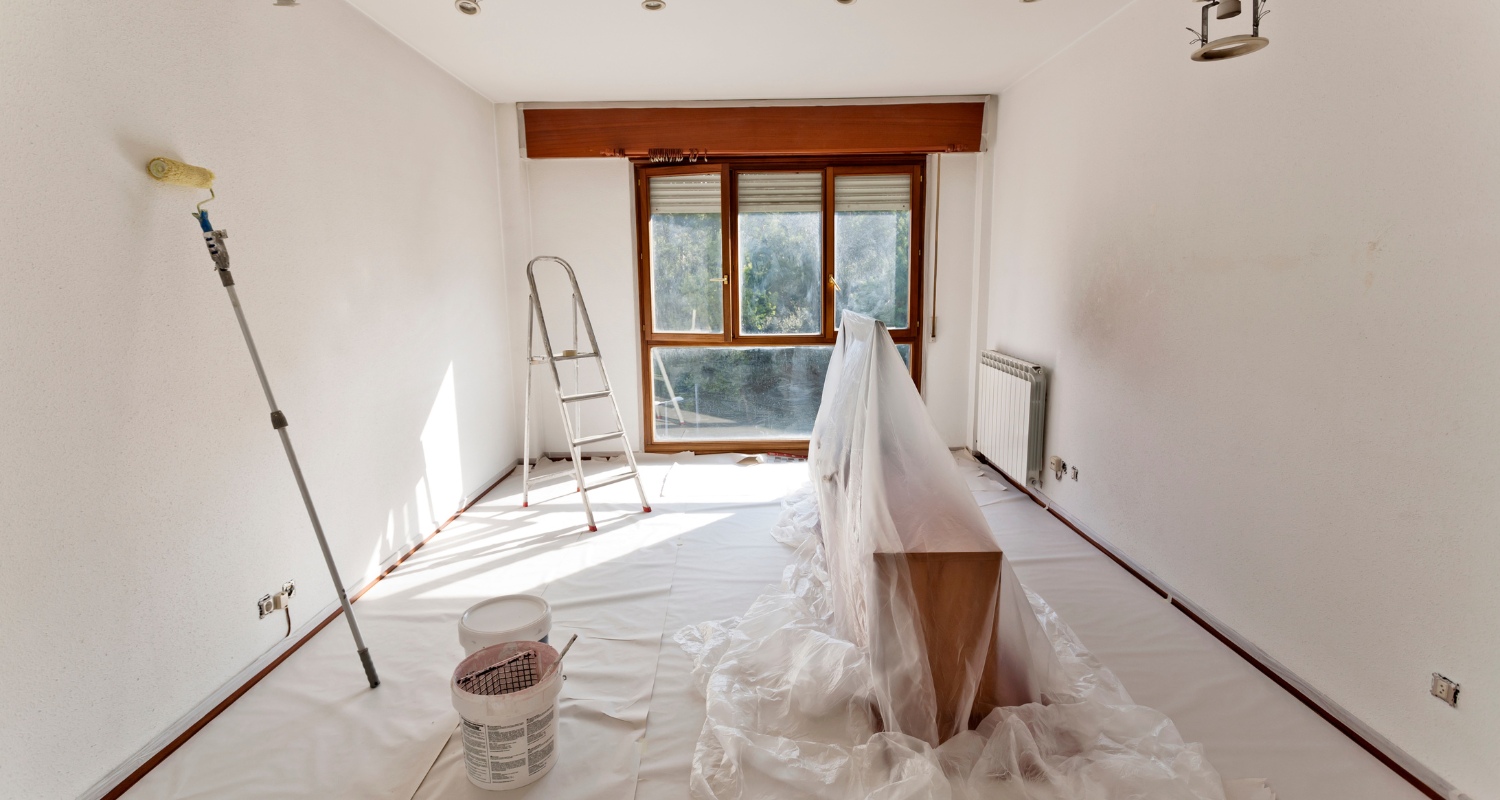 I ACCIDENTALLY USED EXTERIOR PAINT INSIDE; WHAT TO DO?
You may have heard that you must use different paint inside and outside the house. That is why you may be very cautious while painting your home, but what if you make a mistake and use the wrong paint? What happens if you use exterior paint inside? Is it essential to get a different paint for the interior of your home? The above section has answers to such of your queries.
Some paints are designed exclusively for interior use, while others may be used indoors and outdoors. The secret is to use the proper paint for the task.
There is no need to stress if you have mistakenly used outside paint indoors. You won't instantly start puking or throwing up when you enter that room. However, an odd scent in the area might be disturbing.
Pros and Cons of Insulating Interior Walls
If such an accident happens, you can take the following steps.
INCREASE VENTILATION
When you find you've applied exterior paint inside, you should first increase ventilation by turning fans on and opening the windows. Take this step immediately to redirect toxic vapors and VOCs away from your house.
LEAVE THE AREA
Leaving the area is the best option when you've done everything possible to increase ventilation surrounding the painted area. The less interaction you have with VOC particles and exterior paint toxins inside, the better.
COAT WITH INTERIOR PAINT
You can also apply a thin coating of interior paint to it. The toxic effect of exterior paint will be lessened by doing so, but due to specific chemical compositions, it won't be set on it for longer.
REMOVE THE PAINT
If you are still uneasy, you can replace it with interior paint. You should thoroughly scrape the exterior paint before using the interior paint.
Interior Design Vs Architecture
HOW DO YOU REMOVE EXTERIOR PAINT FROM INTERIOR WALLS?
Following are a few easy steps for removing exterior paint from inside walls:
EMPTY THE AREA
Clear the area of all the furnishings and the items you don't want to get ruined. You can also cover them with a large old cloth. Use a dusting cloth or brush to clean all dust and debris from the walls.
SCRAPE OFF THE PAINT
Use a paint-scrapping tool to scrape off the loose paint from the wall. You can use an electric or manual tool.
APPLY CAUSTIC SODA
Apply caustic soda on the painted wall using a mop and let it dry. Soda is toxic, so wear gloves and a mask while applying soda. After drying, it will be easy to scrape off the paint thoroughly.
APPLY ODOR CONTROL PRIMER
After scraping away the paint completely, clean the wall using a sugar soap mixture and apply an odor control primer to remove any existing smell of the previous paint.
PAINT THE WALL
The paint you used accidentally has been eradicated; now paint your wall with the correct one.
CONCLUSION
Now you understand using exterior paint inside is not suitable for many reasons. But it is also not a matter of death if you accidentally use exterior paint inside; some steps can be taken, so don't panic. You can always take help from a professional to do such a job, as they are more experienced and know more about it than you.
If you want to paint to give a fresh touch to your place, have some fantastic ideas in your mind but are unsure which one will fit best?
You can visit Jscottsmith.com to get the best 3D rendering service to get the visual image of your ideas. It will not only save you money and time, but you can also turn your place perfectly as you wish in the end,