In addition to our 3D conceptual visualization services, J. Scott Smith Visual Designs now offers 3D Scanning of your existing interior space. With cutting-edge photometric and infrared technology, we are able to create a high-quality digital representation of any space, allowing you and your clients to explore that space remotely in a remarkably immersive experience.
Photographs lack context. Video is restrictive and expensive. Stitched photo panoramas are cumbersome. A Matterport 3D scan gives you the feeling of actually being there. You can walk wherever you like. You can turn and look wherever you want. You can get a feel for the layout by actually walking the space the same way you would if you were to visit. In addition, you can see the space in floorplan or dollhouse view. (Better to just try it than for us to try and explain it!)
Below are descriptions of some typical uses of the technology, as well as a few samples for you to explore. If you're interested in having a Matterport virtual tour made for your property, schedule your visit here.
Sample Uses
(Click any heading to read more/less)
• Real Estate Listings
Why waste valuable time and money driving to every listing when it's possible to visit them any time, from anywhere? It's like a 24-hour open house. More informed buyers means higher conversion rate. Many sellers report less time on the market for homes with interactive virtual tours. Click here for
more benefits to real estate agents
.
Examples:
• Design & Architecture
Scanning a house after construction means you have photographic and dimensional confirmation of your project's finished state. A scan before drywall adds the accurate 3D location of all wiring, plumbing, HVAC and more. You've never had such comprehensive as-builts!
And for interior design, remodeling, and additions, a scan at the start of the project will let you walk through the project remotely to refresh your memory. You can even make accurate "field measurements" from your own office. Plus, we can supply floor plans, interior elevations, and sections that accurately reflect the project's current state.
Example: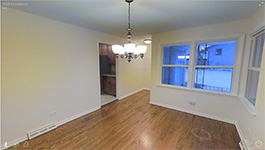 • Hospitality/Venues/Retail
Anyone welcoming customers to their location knows the value of letting them experience the space firsthand. A 3D scan of your facility allows you to show your space online in an immersive 3D experience so your potential customers can "visit" your location from their location. Imagine browsing a showroom, touring a wine-making facility, exploring a wedding venue, or selecting a hotel room all from your own computer or mobile device.
Examples: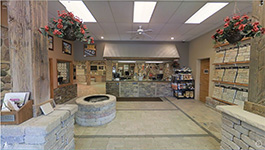 • Construction Management
These days, homeowners are more interested than ever in watching their project progress. Regular scans of a house under construction lets them explore the project safely, on their schedule, wherever they are.
Construction supervisors can use our scans to monitor construction progress, check whether each discipline is on track, and verify dimensions without visiting the site.
Example: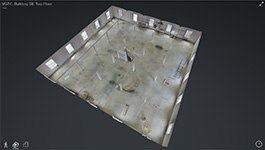 • Insurance Adjusting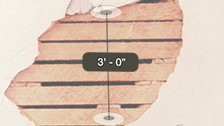 Once you've visited a claim, it's tough to remember what it looked like. Sometimes repeat visits are inconvenient or unsafe. And once demolition and repair has begun, you have no way to check a measurement you missed during your site visit. Those initial photos and measurements are helpful, but they tell a small part of the story. Our 3D scans allow you to refresh your memory, get greater context, and grab those measurements at any time, all from your desk!
• Wayfinding
Additional Services
(Click any heading to read more/less)
• Basic Floorplans
Using the 3D scan data captured while on-site, we can create floor plan layout(s) like the one below to augment your real estate listing.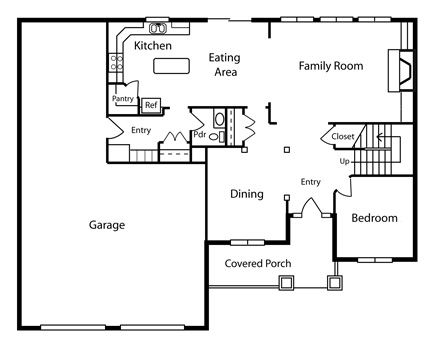 • CAD As-Builts
Because our scanning process captures such an abundance of real-world measurements, we are able to create dimensionally accurate CAD plans, including elevations and sections, representing the space as it exists. These are fantastic for construction documentation and as a base plan for remodeling projects. Below is a sample plan, shown here in PDF, taken from scan data of Building 58 at The Village at Grand Traverse Commons.